What time are worship services?
Sunday Morning:
Life Groups: Life Groups meet at 10:00 AM.
Worship Celebration: 9:00 AM & 11:00 AM
Sunday Evening Worship: Celebration at 6:00 PM.
Typical order of service: singing, prayer, announcements, more singing, a teaching from the Bible, an invitation to accept Christ as Savior or recommitment, and a final song.  All services are streamed live via Facebook.
Wednesday
Dinner (Sept-May only) at 4:45pm.
Treasure Seekers for children, Student Ministry, and Adult Prayer Time and Bible Study at 6:00 pm. Please send your prayer requests.
Choir Rehearsal: Temporarily Suspended
Due to Covid-19 we are practicing social distancing and sanitizing between services.
What is available for my children on Sunday mornings?
Hillcrest seeks to create an environment that teaches our children the truth about God and His word. Our Preschool  is fully staffed for all services which includes a children's church during the Sunday morning worship service. All children's classes are divided by age group for Sunday School. We offer bus rides for children who are at least four years of age.
We offer Sunday school classes for children age three and up to sixth grade. Through our children's classes, we encourage the children to "grow and become strong, full of wisdom and the grace of God" Luke 2:40 just like Jesus did as a child.
You can find out more about our children's ministry here.
Let us know!
You can let us know you are coming by providing contact info, with info like kids and ages, any special arrangements, for you to ask questions, or for our Pastor to reach out to you.
What to wear
Casual is recommended, but come as you are.
Child Care
A secure Nursery is available, along with Sunday School Classes, Children's Church.
Parking
Visitor parking spots and handicapped spots are located close to the front doors.
Transportation via our church vans is available.
Welcome Center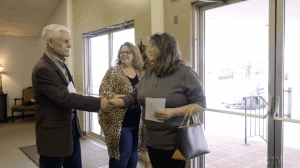 When you enter our front doors, straight ahead is our Welcome Center with greeters who can answer your questions and guide you to all the right places, including descriptions and directions for the Nursery, Sunday School & Life Groups classes, plus sign up sheets of events for your participation.
There is a part of our foyer called Connection Corner, near the library with various resources including magazines and booklets.