And he said to them, "The harvest is plentiful, but the laborers are few. Therefore pray earnestly to the Lord of the harvest to send out laborers into his harvest."
God's instrument to reach every tribe, tongue, people, and nation is the church. The great commission is a call to make much of the name of Jesus both near and far. Therefore, it is our prayer and desire to take him to "our neighbors and to the nations."
God has gifted each of us uniquely and called all of us to play a part in this great mission through praying, giving, and going to where the gospel is needed.
Afghan Resettlement Church Volunteer Survey – Our church has the opportunity to help an Afghan family resettle in our community. Please click on Survey to find out how you can help.
The Joshua Project is a resource on unreached peoples around the world, with sections on how to better pray for and support them.
Our missions offering goes to support the various ministries God has called us to locally as well as internationally. You can also support the Annie Armstrong offering which goes to North American Mission Board and Lottie Moon offering which supports the international mission efforts of the International Mission Board. Rylee Slye, a young lady in our church, has started a project to sell baked goods to support the IMB Deaf Outreach. You can find out more here. Mission efforts also include the Woman's Missionary Union (WMU) whose unwavering focus on making disciples of Jesus who live on mission happens through missions discipleship, leadership development and compassion ministries, with Kingdom impact in every state and 39 countries.
Eternal pastime is a sports ministry in Cuba and other countries where donated sports equipment is used in camps where children can come and hear the story of Jesus.
At the Missouri Baptist Convention 2021 meeting, Bill Dudley (right), along with his daughter Linda (center) and wife Lillie (left), speaks to guests and messengers in the meeting's exhibit hall about Eternal Pastime, a ministry founded by Dudley's late son, Paul, in 1999. After Paul's death in 2019, the ministry has been carried on with the support of Hillcrest Baptist Church, Lebanon.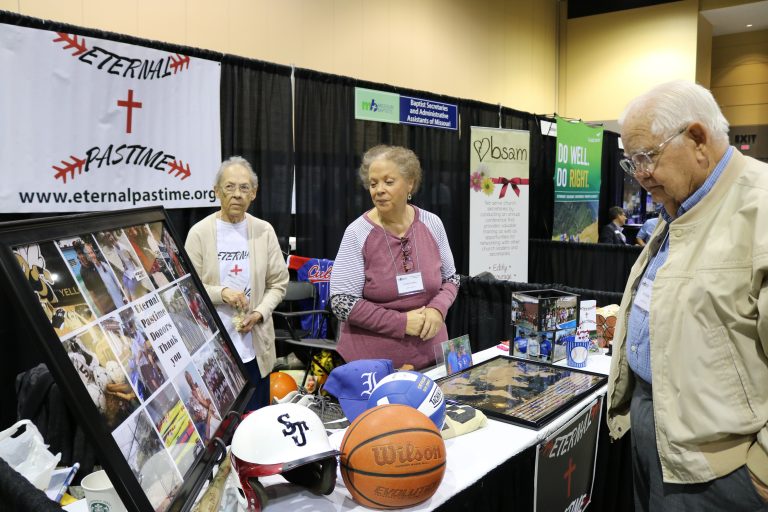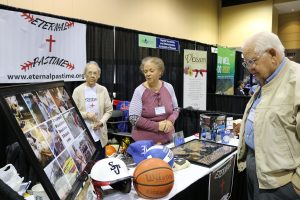 We believe living a life of generosity is the key to seeing the Good News of Christ reach the ends of the earth. Jesus generously gave His life for us which motivates us to give sacrificially so others can know the same grace we have experienced!
Our prayer is that through your sacrificial giving, we would see people both here and around the world come to know the salvation of Jesus and bring glory to Him through their lives.
You can support our mission efforts via our on-line giving page at Donate – Hillcrest Baptist Church and click on the Show All arrow to a list of donation purposes and pick missions.
Besides praying and giving, another way to support missions is to go. Our church has a number of short term mission trips each year. We send teams four times a year to West Africa where we partner with local believers to spread the gospel and disciple new believers. We have worked with church plants and ministries in North America, including Gladstone, Missouri; Canada, Mexico, Wyoming, St. Louis, Boston and Illinois. If you are interested in going on a trip, please fill out this application.